Welcome to Peters Chemical Company
About Us
Peters Chemical Company is the leading supplier of ice melters, including calcium chloride pellets, calcium chloride flake (PELADOW™ , DOWFLAKE™ Xtra, COMBOTHERM™), MAG pellets, MAG flake, magnesium chloride pellets, magnesium chloride flake (MAG), sodium chloride (rock salt, Halite), potassium chloride, urea, sodium acetate (NAAC), calcium magnesium acetate (CMA), potassium acetate (CF-7, E36) and other airport deicers.  Our top sellers are: PELADOW™, DOWFLAKE™ Xtra, COMBOTHERM™, Mr. Magic®, Monster Melt®, Stop Ice®, Safer Than Salt Commercial®, Safer Than Salt Premium®, Safer Than Salt Premium with Corrosion Inhibitor®, EarthGuard® and of course, sodium chloride otherwise known as rock salt or halite.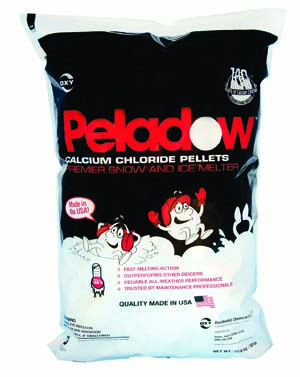 Peters Chemical Company is one of the leading suppliers of industrial and chemical lime (calcium oxide and calcium hydroxide, lime kiln dust) and agricultural limestone (PCC Agricultural Limestone) in the Northeast
Our Mission
To become your supplier with a quality product at a competitive price.
Company Profile
Peters Chemical Company is the sales agent for some of the leading manufacturers in the United States. Some of our suppliers include Occidental Chemical Corporation, Kissner, IMC, Morton, Carmeuse NA, Cargill, Cryotech Deicing Technology and Dead Sea Works to name a few. Our warehouses are located throughout NJ, NY, DE, MI, IA and PA.
Members of: AWWA, GCSANJ, Past Presidents of PFESNJ (in cooperation with Cook College, Rutgers University), ISSA, NJSSA and SIMA.
Contact Information
PETERS CHEMICAL COMPANY
P.O. Box 193
Hawthorne, NJ 07507
973-427-8844
973-427-7748 (Fax)
CONTACT:  Harold at peterschemical dot com